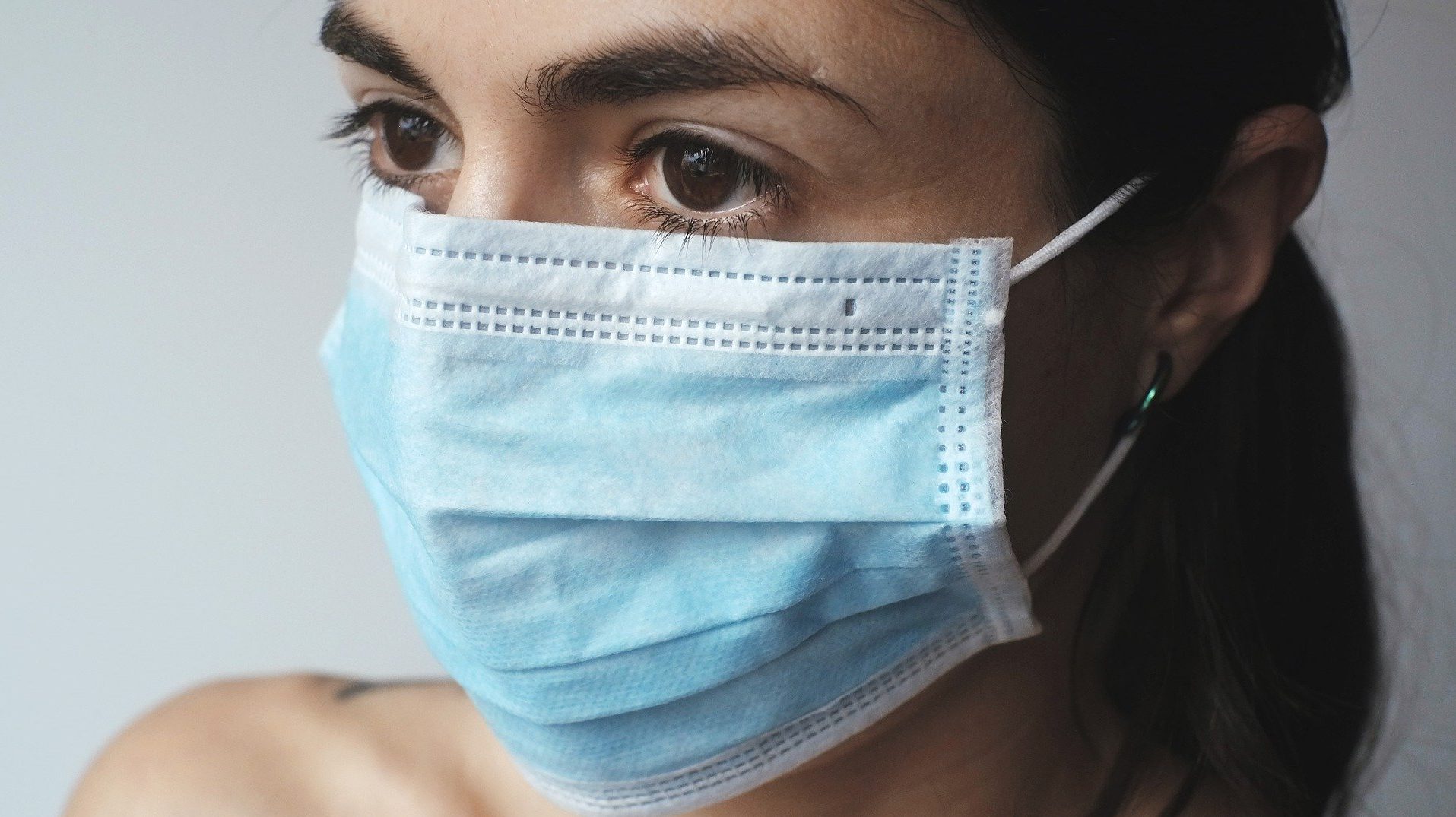 11 Ways You Can Help During the Coronavirus (COVID-19) Pandemic
Share with a friend!
Thousands of doctors, nurses, paramedics and other frontline NHS staff are currently risking their lives to fight the coronavirus pandemic. These heroes and heroines have children and pets that need to be cared for and little time to go shopping for essentials such as food.
At the same time, an estimated 1.5 million vulnerable people in the U.K. alone are isolating themselves because they are especially at risk of developing severe breathing difficulties if they catch the virus.[1] Isolation can be lonely and restricting; how will they get groceries, medicines and share their worries with others?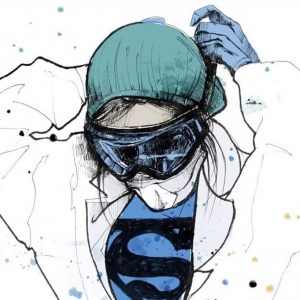 If you're reading this blog post, you probably feel a deep need to help. But if you can't help on the frontline, what can you do to?
I've been seeking out volunteering opportunities since my medical school suspended our clinical placements and moved all teaching online.
Below are some ideas of how to help if you can't join the front line.
1. Check on your family, friends and neighbours
Don't forget your own loved ones. They need you too. Those who live alone or are separated from family will find this time especially hard. Make sure to check in on them.
Send a text, make a phone call or arrange a group video call on Zoom. It is now even possible to have group chats with your friends and family while watching Netflix thanks to a new Chrome extension called Netflix Party.
2. Post this slip through doors
A lovely idea has been circulating on Twitter to print off the slip below and post it through the doors of vulnerable and elderly people in your community.
Find out more about the person who came up with the idea or download it directly (ready to print).
Make sure to wash your hands before handling the paper, of course.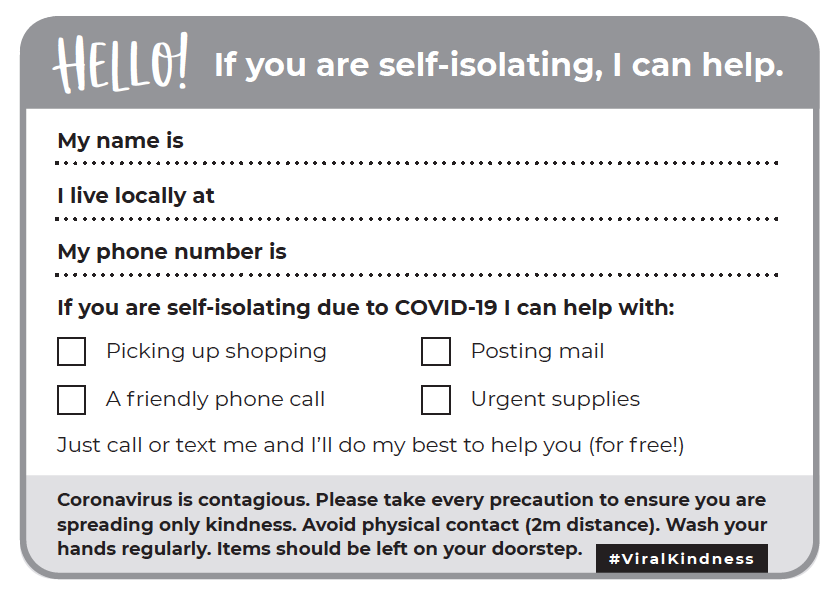 3. Join or create a local mutual aid group
Join or consider setting up a mutual aid group for your city district, town or village. According to the organisation COVID-19 Mutual Aid, mutual aid groups covering smaller areas work better than those covering big areas.[2]
There are a number of ways these groups are coordinating themselves, but many seem to be using WhatsApp and Facebook groups.
Keep in mind that many elderly people do not have access to or are uncomfortable using social media, let alone computers or smart phones. More traditional means of communicating are more likely to reach them (see the idea above!)
If you're a medical or health care student, various regional Facebook groups have been set up exclusively for such students to help NHS staff. One benefit of these groups is that NHS staff can be confident that the people helping them have had DBS checks. To find one, search Google or Facebook for "National Health Supporters".
4. Check out COVID-19 National Mutual Aid 
This organisation seeks to support the various mutual aid groups popping up across the country. Through the website you can find your local group.
I've also seen them share opportunities for remote volunteering (ideal if you are especially vulnerable to the virus or are living with someone who is).
Check out their website or Facebook page.
5. Become an NHS Volunteer Responder
Launched Tuesday 24th March, the NHS is recruiting volunteers who can help transport equipment and medicines between NHS sites, collect groceries or medicines for people who are isolating and make phone calls to people at risk of loneliness.

6. Register as a Red Cross Community Reserve Volunteer
The British Red Cross are recruiting volunteers who are willing to help out in emergencies in their local area. "No specialist skills are required, and quick training is provided at the scene".
7. Sign up to be an Age UK telephone befriender
Age UK is a charity that supports older people. As a telephone befriender you will be matched with someone with similar interests to you. Then you ring them at the same time each week. It's a great way to reduce someone's loneliness.
8. Volunteer with the London Ambulance Service
If you're in London, this opportunity could be for you. The London Ambulance Service is seeking volunteers to help them cope with the current crisis.
9. Help get personal protective equipment (PPE) to NHS frontline staff
Medical Supply Drive began in the US and was started by medical students. There is now a UK branch seeking to get protective equipment such as masks, gloves etc. to NHS staff by sourcing them from places that don't currently need them such as laboratories, salons and veterinary centres.
You can also donate any personal protective equipment that you have yourself.
For more information, see here.
10. Give blood
Travelling to donate blood is still allowed. It is considered "essential" because it helps meet the medical needs of vulnerable people.
Book an appointment via the blood.co.uk website.
11. Download the COVID-19 Symptom Tracker App 
King's College London are gathering data on symptoms people are (and are not) displaying to better understand the development of the disease and also how it is spreading.
All you have to do is download the app and log your symptoms -or lack of symptoms – regularly.
For more information see here.
-—
Stay safe. Stay positive. Stay home!
If you found this article helpful and you'd like to read more of my blog posts, feel free to sign up to my mailing list.
Have some feedback on this article? Did I make an error? Please contact me via the contact page or leave a comment below.
—-
References:
coronavirus
COVID-19
pandemic
volunteer
volunteering